Dominating Paid Search; How Coast helped Huskee achieve a positive return on their ad spend
The Challenge.
Main Objective:
Increase conversions through Google Ad campaigns.
Pain Point:
Sales conversions unknown and average ad metrics*.
Hurdles:
The reusable coffee cup industry is highly competitive with a number of well known brands including KeepCup and Frank Green.
Starting with an account with incomplete data (missing conversion information) and a non optimal campaign structure we were excited to take on the challenge and positively turn the account around, generating a profitable return on ad spend through an organised account structure built from top, mid and bottom of funnel focussed campaigns.
Before working with Coast: October 2018
We began with benchmarking the performance prior to us starting work on the account. With high Avg CPC's and a low CTR, conversions were also not being tracked. We immediately set up conversion tracking to provide more data to enable us to optimise the account to generate more sales and a strong return on ad spend
The Strategy.
Our strategy focussed on generating a positive return on ad spend, increasing conversions by driving higher volumes of quality traffic to the website, whilst lowering the average cost per click (cpc)
After a collaborative strategy session, our game-plan saw us planning to tackle the following areas, all of which we believed would make a big difference:
The optimisation of the account set up to provide access to more data to be able to inform campaign optimisations and to enable sales conversions to be attributed to Google Ads activity.
Campaign optimisation including keywords, search terms, bids, budgets and ad creative,
Keyword research to identify optimisations and introduce new ad groups and or campaigns.
A full competitor review to discover and analyse competitor ad performance, keywords, ad creative and overall market position.
Introduce new initiatives including re-marketing, brand and competitor campaigns to target top-mid-bottom of funnel searches.
In our approach to working with real-time data, we used this to our advantage to also have a look at:
Regular competitor analysis to be able to respond to market changes.
A/B testing within campaigns (targeted at key demographics and locations) and new campaigns
The historical data of the campaigns and how users have interacted with them
The Results / ROI.
Within the first 3 months of working on the account we were able to generate a 99% increase in return on ad spend to 138% from 39% when we first added conversion tracking to the account. This has continued to grow month on month and is now at 173%
We have been able to drive more quality traffic to the site, in turn driving an increase in online sales each month.
We have increased the Click Through Rate (CTR) to 19% across the account, up 14% on the 5% CTR at the time we took on the account. This is significantly higher than the Retail Industry average of 4.67%*.
We have significantly reduced the Average cost per click (CPC) to $0.36, saving a massive $2.83 per click from previous results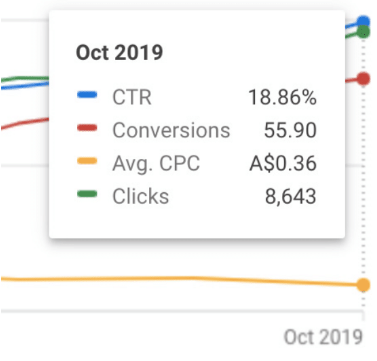 Coast were a great group of people to work with. They made themselves very approachable and always stuck to their word with turnaround times. I can recommend reaching out to them to scope out your next project!

Nicole Barnes, General Manager, Huskee
Top Performing Ad (last 90 days)

Key Statistics (last 90 days)
139K IMPRESSIONS

24.9K CLICKS

$0.39 AVG. CPC

164 CONVERSIONS

17.8% CLICK THROUGH RATE (CTR)

168% ROAS

IS YOUR BUSINESS LOOKING TO ACHIEVE SIMILAR GROWTH?

*2019 Retail Industry Average Google Click Through Rate 4.67% Source: https://instapage.com/blog/google-ads-industry-benchmarks