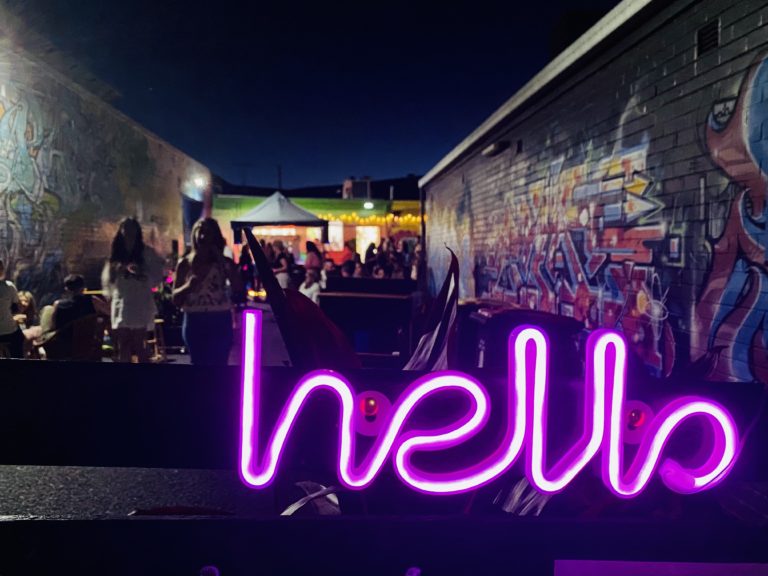 With an offer of live music, fabulous drinks and tasty bites, Alykat Creative Gallery & Studio invited creative Coffs Harbour locals to celebrate the opening of her Australian Summer Exhibition, with a Park Lane Session.
Reminiscent of Melbourne or Inner Sydney street parties, the creative Coffs creative community came together to activate Park Lane in what many have celebrated as statement of what is to come.
Decked out for a party, local artist Billie Jo Porter kicked off the good vibes and Pablo Blitzer rocked out the sax with the guys from Sunset Strut trio playing into the night
And it wouldn't be a laneway party without amazing food and booze. Happy Frog provided the tastiest of treats, with new kids on the block King Tide Brewing, providing refreshments alongside Fiesta Kombucha and locally grown Wild Berry Wines with their sparkling rosé. Amazing.
As a sponsor of the event, Coast were there on the night, with our Creative Director Shane soaking up the laneway vibe alongside other key sponsors including Arts Mid North Coast and the Coffs Conservatorium of Music.
Other sponsors and key contributors included: Alt Collective, Daniel Saddleton, James Lander Photography Lara Freeman, Luke Greening, and EventsbyMus.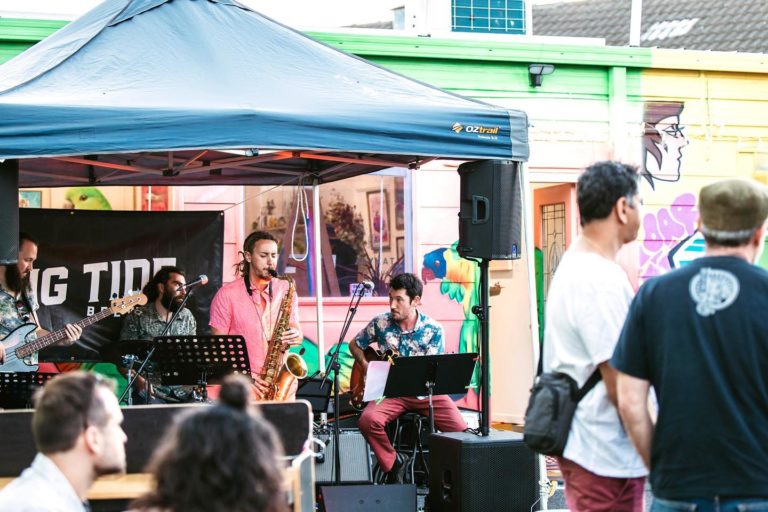 It was especially great to introduce newly launched 'Wild Berry' wine to the event planners, who were keen to include this delicious drop as a featured drink at the pop-up bar. Produced by our client, North Coast Blueberries, we were super proud and excited to see the branding and label designs we created be so popular on the night. So many conversations had about the fab new sparkling rose made from Coffs Coast's very own wild berries! if you haven't yet had the opportunity to try this sustainably made drop, do not miss out!

Shane O'Brien, Coast Agency
The event presented by Alyson Pearson of Alykat Creative and run by Summa from eventsbymus was deemed a huge success. With multiple artworks selling on the night and dancing in the street, much fun was had by all. Surely this is a symbol of what is to come from the Coffs creative community.
Bummed you missed Alykat Creative's recent Soirée? Fear not! For those not able to attend the official launch of the Alykat Creative's Summer Exhibition, it's on until the end of Jan and there is even a FREE (second) opening event on Friday 3 December 2021! Do your bit to show support for Coffs Creative Industry and be sure to swing by Alykat Creative Gallery & Studio on Park Lane Coffs Harbour to check it out. It will be a very fun night!
Creative Coffs is on the move
Coffs Harbour is fast becoming a hive of creative minds, with 2022 already set to be a strong year for creative events. April 2022 sees the return of Screenwave International Film Festival (SWIFF) and the inaugural one day playground of live music and art – Storyland.
Helping to build of Coffs Harbour's trailblazing creative community is very much part of Coast's vision. You will often see us out and about at events, or collaborating with other creative community members on ideas to boost culture and the arts around town. In fact, if you have an idea you'd like to share, do let us know.
Watch this space for more creative coffs events for the community and be sure to get in touch if you have an amazing idea for one and need some help connecting to our network of event of creative people who can bring your vision to life. Otherwise we will be at an event soon, and would love to catch up to chat creative coffs over some groovy tunes and a drink or two.