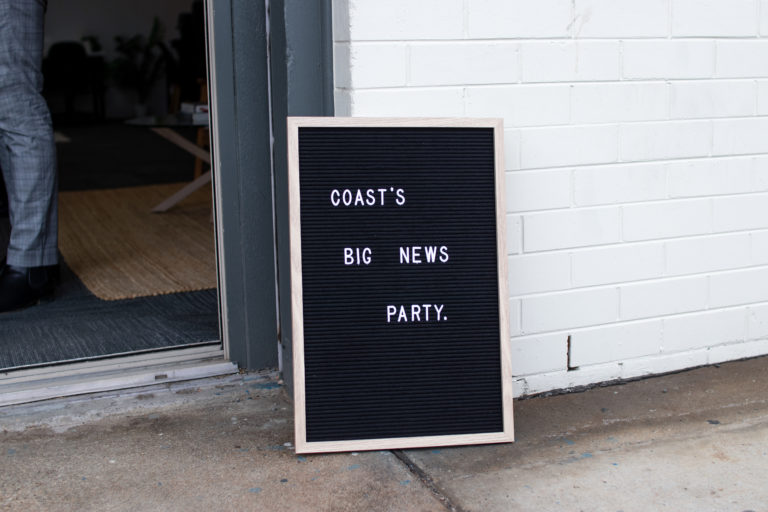 Let's face it – the 'covid years' have been pretty tough for everyone in one way or another. For us, we missed coming together and hanging in the studio – something we will never take for granted ever again! Now for those that know us well, we also love a party. In fact, we've been desperate to give back and celebrate the relationships we have with all our wonderful clients. So while no longer in some sort of lockdown, we decided it was time to get our local client 'heroes' together again for a long-overdue appreciation party.

Our 'big news party' hosted on 30 June was so much more than sharing the news of the exciting appointment of Jena Hackett as our new Creative Director, it was about bringing together our community of local client 'Heroes' – all of which played a huge role in keeping us busy over the last few years. Plus, it was a perfect opportunity for local businesses to network and a chance to get to know some of the newer 'Coasties' who have recently joined our team.

So on Thursday 30 June 2022, we opened the glass doors to our Murdock Street agency in Coffs Harbour, to put on a champagne brekky event just for our lovely clients. Aside from the yummy mimosas, our grazing table featured a decadent spread of delicious morsels from various local businesses. A lucky door prize winner was drawn by Summa, followed by some heartfelt words by Jena and Shane. 

Aside from wishing to thank those who attended, the entire Coast team raised their morning mimosas to the 'family' Coast has become part of, and to a bright future. By working with our agency, you are making a difference to our collaborative family. We would not be here without your support, and we appreciate the faith you have put into us. We look forward to continuing working together for many years to come!

– Team Coast
_____________________

A big thank you to our; event co-ordinator Summa from @eventsbymus, photography mastermind Jessie from @bloompress & coffee legend Luke from @mymatesplace 🙏🏼