BlackLight Collective
BlackLight Collective is a social enterprise dedicated to redefining the Coffs Coast as a creative industries hub. From bringing events and jobs to the region, to shining a light on local creatives, BlackLight are passionate about delivering high impact and immersive experiences where art, technology and design converge.
How we help.
Brand Identity & Design

Brand Strategy & Positioning

Business Development

Coaching & Training

Communications Strategy

Domain Management

IT Support

Website Content Support
Brand Direction + Identity Strategy
Coast Creative Director and BlackLight Co-Founder, Shane O'Brien conducted a series of face-to-face workshops that enabled BlackLight to establish a solid framework for establishing and positioning their new brand. The purpose was to ensure its relevance, point of difference & role in representing an emerging community of creatives on the Coffs Coast of NSW.



Aside from deliver key brand direction, including a name, these workshops also enabled the newly-established organisation to formulate a set of guiding principles that centre around:
- Shine a light: unify and connect the creative industries on the Coffs Coast;
- Light a fire: ignite the region with exciting events, partnerships and commercial ventures to develop our region as a creative industries hub;
- Keep it burning: create a self-sustaining model by building deep roots with the creative community and its supporters, educators, industry leaders and government.
Visual Identity + Logo Design + Brand Style Guide
As part of the engagement, Coast also worked with BlackLight Collective's Brand + Website sub-committee to craft a logo/visual representation of the BlackLight brand.

Coast's design team were inspired by the idea that BlackLight is committed to shining a light on our region; illuminating what isn't usually visible and brings it to life. The creative direction behind the logo was based on a 'coming out' of the Arts, Culture and Creative Industries, illuminating a celebrated identity for our region.

To represent this visually, we utilised design cues from the classic neon signs that were designed to grab your attention! Loud, proud yet future-focussed, the BlackLight Collective logo incorporates a contemporary combination of colours and typography, including a custom handwritten font designed by Coast's Brand Specialist, Jena Hackett. Just like old-school neon signs, the client loved that the logo appeared to be flickering and slowly lighting up; quite literally representing a growing illumination of Arts, Culture and Creative Industry that will be highlighted by the organisation.
Website Design + Development
Coast worked closely with the team at BlackLight Collective to bring to life their fantastic vision for the organisation's website. This was to be an engaging brand hub that was not only a visual feast but also provided value to their user though its content and ease of use.

Coast began the process by workshopping through the site structure/user experience with the client. We then applied the newly launched BlackLight Brand Guidelines to the website designs which translated beautifully online. Following approval of these designs, we then built the website from the ground up on Coast's custom, responsive WordPress framework.

Build features included:
- Ability for users to purchase various levels of membership through the integration of Stripe;
- Customised Membership module which has the ability to hide/show content based on member level. This included the ability for certain users to create a profile for publishing within the Agency section of the website;
- Integration of MailChimp to allow data collection for future segmented email marketing;
- Integration of the Yoast SEO module to help BlackLight edit every page/post/product on the website, to help with visibility within search results;
- Set up of Content Management System (CMS) so BlackLight can continually add to their site;
- Setup, configuration, and testing of 3 contact/enquiry forms;
- Social media icons linking through to social sites;
- Integration of Google Analytics which allows BlackLight to monitor general statistics related to website use;
- Animated brand graphics.

The BlackLight Collective website supports both the organisation's individual needs; a platform that represents and unites members from local Arts, Culture and Creative Industries.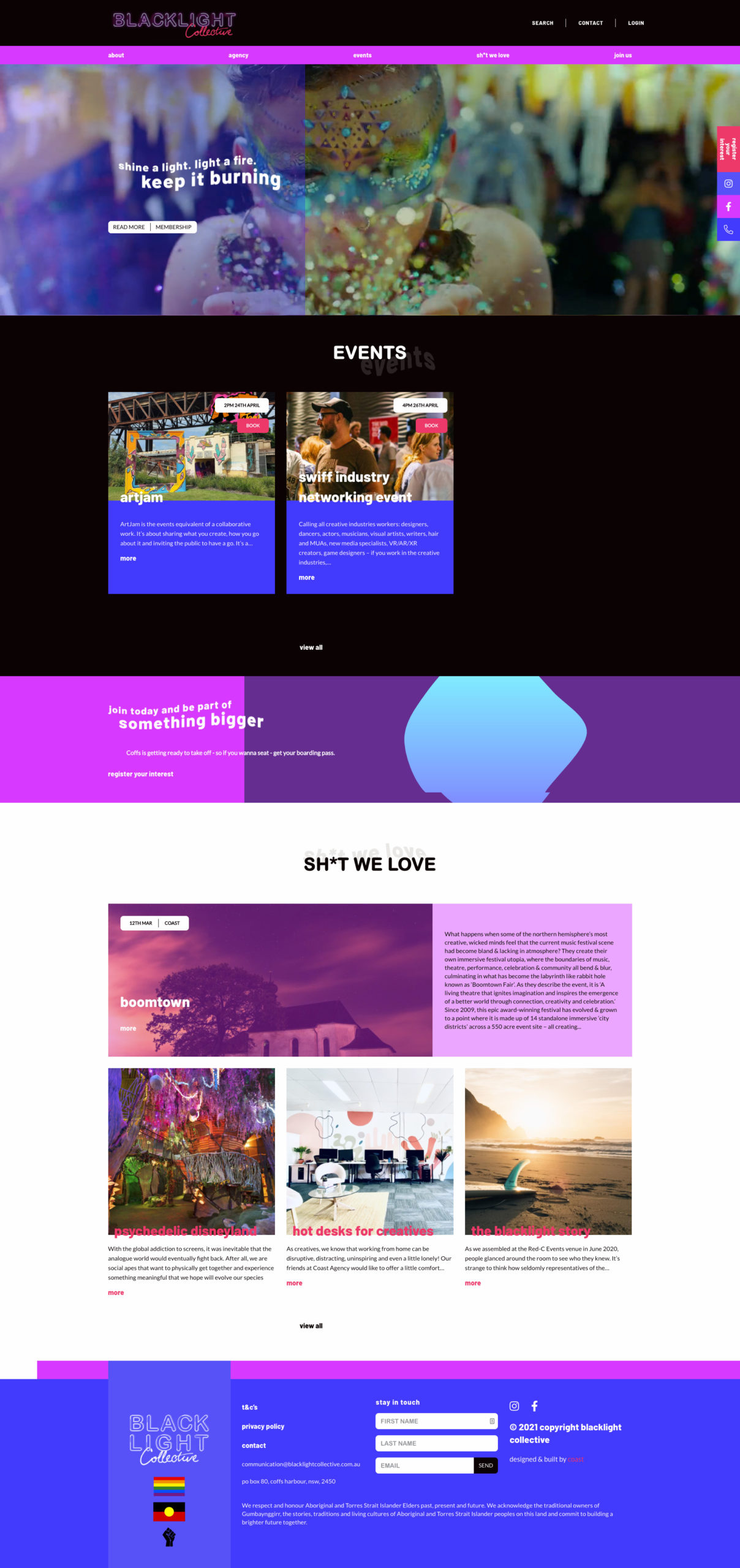 What are you waiting for? Lets make some magic. Book a free meeting today
What are you waiting for?
Let's make some magic!