Part one of this blog series explored the ins and outs of content marketing and why it is so important for your brand. Now, let's look at some practical applications and how you can maximise your content marketing efforts.
Content distribution: Working smarter, not harder.
Effective content distribution utilises the power of 3 key ingredients; Owned, Earned and Paid Media.
Earned, owned and paid media all contribute to the effective distribution of content and are equally as important as each other. While at times your distribution strategy may not always be even, Coast can help you evaluate these three themes to enable you to decide where best to allocate your brand's resources.
Owned media sites extend your brand's presence and ultimately create additional means for users to interact with your brand. Keep in mind, the more avenues you have for people to interact with your brand, the more maintenance will be required from you. Don't spread yourself too thin!
Earned media is free publicity for a brand and is great for driving traffic, engagement and sentiment. There are many way to achieve earned media, having content strategies in place along with good SEO are the more effective and controlled methods.
Paid media will allow you to promote your content, which in turn can generate earned media. It can also help to drive traffic to your media properties.
Leverage a combination of owned, earned and paid media for a comprehensive marketing mix.
Content Distribution Trifecta:
The illustration below outlines each element's role and how they work together to form a cohesive marketing mix.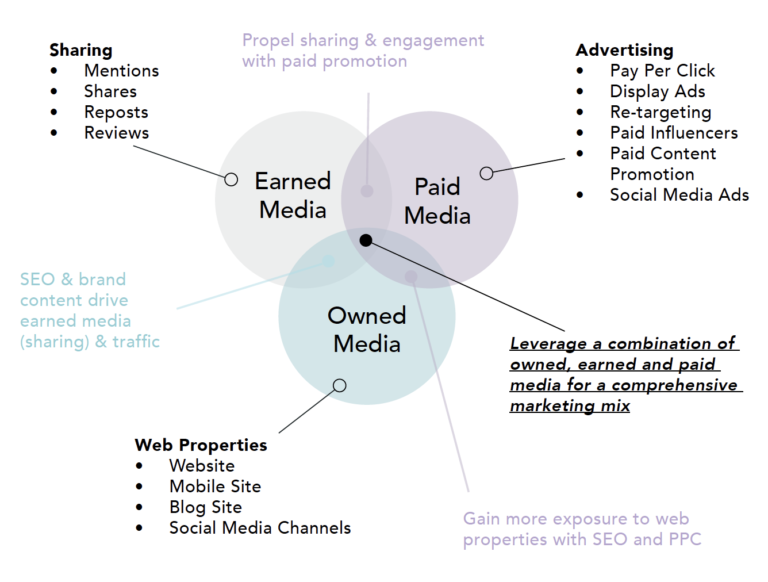 Content marketing meets digital.
Consumer preference for online content is increasing exponentially. Digital ad spend continues to rise and integrated technology and tracking allow content and advertising to work seamlessly.
Content often provides the glue for a smooth customer experience across a brand's digital ecosystem spanning advertising, PR, sponsorship and SEO at the top of the funnel through to commerce, CRM and loyalty programs.
Coast utilises the power of digital to take content marketing to another level. With various tools at our disposal, we are able to create targeted campaigns to engage an audience to perform a specific result, such as awareness or conversion etc.
Digital enables us to push-out targeted content designed for specific audiences, in real-time. This leads to more significant customer insights + more relevant conversations amongst brand and consumer. Doing so inevitably adds value, engages customers, generates quality leads and allows for faster growth.
With strategic messaging across both online ads and landing pages designed for-purpose, let us help you create campaigns that are promoted on Google, Facebook and Instagram. Before you begin, it's critical to ensure you craft a bespoke Digital Marketing strategy that will have your brand celebrating digital successes!
Why online advertising is a MUST within your marketing budget
Advanced segmentation
Online advertising is highly effective because unlike traditional media, it gives you the chance to segment your audience more effectively.
Unlimited reach
With new users every day and shops open 24/7, the sky's the limit in terms of targeting the right people to your brand, all while they are in the right frame of mind to make a purchase or interact with your brand.
Reduced Costs
When it comes to online advertising, you only pay for the results you achieve. Coast can establish versatile options for every budget and when it comes to actual spend.
Immediate visibility, flexibility and delivered in a variety of formats
We generate reflexive campaigns that allow content to be modified in real-time, allowing us to optimise and adapt it according to a prospect's needs. Winning!
An accurate measurement of results
We use KPIs to set and monitor ROI performance.
Content repurposing
If you've gone to the effort of creating engaging and valuable content for your customer, why not make it work for you? Just as an outfit can be worn many different ways, consider content repurposing as doing just that – what was old becomes new again!
Evergreen content continues to be valuable and relevant over the months and even years. Therefore, it is worthwhile re-purposing what you know to be or expect to be your most popular content.
Longer form content such as website articles or blogs can be repurposed into multiple other pieces of content. This way you can maximise exposure of your content and also get more from your budget as you can extend the longevity of each content piece. For example written blog content can be turned into:
Videos;
How-to Guides;
Case Studies;
Infographics;
Podcasts;
Visual social posts (Quotes, Images, Statistics);
Facebook or Instagram Stories.
Harnessing third party content
'Third-party content' is precisely what it sounds like — content that was created by another. We all know how many people 'borrow' exciting articles shared on Linkedin or Twitter, as opposed to creating something from scratch which saves so much time and money!
Sharing original content is essential. However, you are part of an industry and sharing relevant curated content is also beneficial. To begin with, it helps build trust and authority if you can understand and explain what is happening in the industry to others and secondly you may not have the resources to consistently create all of your own content.
If you'd like to utilise third-party content but not sure where to look, a good place to start is by researching industry publications, podcasts and videos. It can also be valuable finding some of the top influencers in your industry and sharing their content, or using your own customers' guest blogs and reviews.
Frequency of content
There's a fine balance with how much content to post. If you don't post often enough, you risk losing your audience simply because they forget you exist. However, posting too often can also be detrimental as you may clog up a customer's feed, causing them to unfollow you.
So, is there a sweet spot? While it does vary depending on your business or organisation, posting three times a week is a good place to start.
Once you start to build an audience who is engaging with your content, the key is remaining consistent so that your audience knows what to expect from your brand and your platform.
For example, it's good to maintain a consistency in blog publishing, start with what is realistic for you. Whether that be monthly, fortnightly or even weekly. Remember though, that quality is always better than quantity. The aim is to create valuable content that will be relevant to your audience. By talking to your customers and by participating in conversations on social media, you will start to get an idea about what it is they want to see and how often they want to see it.
When it comes to social media, we recommend posting at least 2-3 times a week, but no more than once a day. Stories on socials are a MUST when staying front of mind. They have in-built engagement tools, which are great for learning about your brand's audience and what they are thinking, feeling, wanting and needing.
---
HOT TIP: Wondering how often and when to publish?
Latest figures tell us that 71% of Facebook users check their account every day. Hootsuite identifies 12- 3pm Mon, Weds, Thurs, Fri and 12-1pm on Sat & Sun as peak engagement times. We recommend posting at times when your target audience is most likely to engage. This can be tracked using Facebook analytics, which is something Coast can assist with too.
---
Content scheduling
Use a scheduling tool to automatically post content. This saves time and also ensures content is posted at the most effective time of day.
Try to aim for a time of day that your users likely engage with content. Depending on your product/service, early in the morning or even around dinner times of an evening are popular; as well as weekend mornings.
You can save drafts and schedule posts natively on Facebook. There are also free and paid tools on the market that help do this too.
Example free tools:
Example subscription tools:
---
HOT TIP! Instagram Business Accounts
Instagram Business accounts are crucial and will give you access to free analytics that will tell you invaluable information like the days and times your audience is active. These valuable insights are also available on Facebook, under Facebook Insights – Posts Tab.
---
Content marketing's secret weapon: rich media
Combining text, audio, animations, video, and even interactive content, rich media has proven to take the cake when it comes to engagement and making your content more compelling.
Creating relevant content, targeted to the right people, at the right time, is a critical aspect to the effectiveness of any content marketing effort. Rich media can be used to help enhance campaign ROI by making it more appealing for consumers to interact, thus giving marketers a better shot at capturing user insights and interaction data directly into an automation platform or CRM.
Display Campaigns: Boost leads with In-Banner Forms
To ensure higher success, in-banner lead forms can be tightly integrated with your in-house marketing systems. You can curate cleverly written content, calls to action on landing pages, and even lead-capturing forms, directly into your display campaigns.
'Choose Your Own Adventure' Email Nurture Programs: Increase response, and capture individual insights
To combat dropping email response rates, embedding user-driven rich media inside emails can improve your email nurture programs and increase response rates. Interactive tools allow us to engage prospects and gather relevant information about their individual interests, purchasing behaviour, or products and service needs.
When planning for these, ensure you get creative; make your content as exciting and entertaining as possible. You can also look to incentivise interaction, such as running a competition or giveaway.
By ensuring real-time insights live inside a CRM, your sales teams can ensure they have all the right info to guide prospect interactions and revenue increase.
Website: Increase lead conversions with Targeted Messaging
In content marketing, relevancy reigns. The more effective the targeting, the greater chance you have of captivating a potential customer or fan. We suggest starting by using previously gathered prospect data and/or interaction history when curating campaigns. When marketing content, consider applying rules to your rich media within ads, so that the right messaging is displayed to the right users.
Social Media: Get customers talking and sharing
Word of mouth marketing has taken off on social media. Running a rich media 'refer-a-friend' campaign is another excellent way to encourage happy customers to become ambassadors who can help generate more leads. Use rich media to promote giveaways, promotions, and competitions and throughout your social media pages to get customers excited about sharing your company or product with their friends and followers on their own networks.
Social video hints + tips
If you're struggling to see results from social media, creating and sharing social media videos might be a way to generate engagement. Building more social video content is a great way to boost results across the board; engagement, awareness, traffic, conversions, and sales.
Follow the tips below, grab a tool you feel comfortable with, and start creating more social video content.
Make sure you tell a compelling story
Use the first few seconds very wisely, as many users lose interest after 8 seconds. You really need to ensure the first few seconds encourage users to watch the full video.
The ideal video length for Facebook is 30-120 seconds. Try to make all content as short as possible. Keep in mind if you post to Instagram, the maximum video length is 60 seconds.
Use subtitles as Facebook videos autoplay on mute, meaning unless the users switch on sound, your words will be lost.
Include a Call to Action. What do you want the user to do after watching your video?
Include your brand logo at the start and/or end of your video, along with your website address or social media handle e.g. @username.
16×9 landscape video format is fine for Facebook, although many brands are now trialling vertical video, meaning the user doesn't have to tilt their phone to watch. https://www.facebook.com/business/news/get-creative- with-vertical-video
For Instagram consider square video. It is possible to edit 16×9
Convert your video into square formats using apps on your phone. https://www.
Upload video natively into Facebook directly. Industry reports identify
native video is far more likely to be engaged with and have greater reach than sharing of YouTube links on Facebook.
Blog writing hints + tips
Some ideas need to be written about. Perhaps it's a new take on the familiar, or even something completely original and inspired. It may be your opinion or someone else's.
Whether you're promoting a product or business, or you're just excited about that perfect right-hander you caught on the weekend and you want to tell the world. Blog writing is about more than putting pen to paper; you need to stand-out and win-out for your content to be king.
Whatever your reason for writing, you can make sure your blog or article stands out by considering the following:
Has the content been written with a focus keyword/search term in mind?
Ensure this is featured in the URL, Title, First paragraph and meta description.
Is the title between 50-60 characters?
Is the meta description between 70 and 156 characters?
Write for humans who can read online content. Include bulleted lists, headers and short paragraphs.
Use a larger text size for easy reading. Between 12 (16px) and 15pts (20px) is great.
Use images throughout your post. Most people are visual readers and a picture truly can tell a thousand words.
Add links to other relevant content you may have on your site. These are called hyperlinks. Choose to hyperlink words that describe the link, rather than the words 'click here'.
Embed video. Link to videos hosted on YouTube or Vimeo.
Add a call to action at the bottom of each blog. This could be to subscribe or sign up for an additional piece of content.
Always create your content outside of WordPress. Then you can copy
and paste it in. When you do ensure you 'Paste and match style' so you don't inadvertently copy over any messy code.
Why invest in content for your brand?
In 2020, the top performers in the Business to Consumer space spent, on average, 38% of their total marketing budget on content marketing.
Nearly 80% had experienced an increase in audience engagement and could prove (with numbers) that this was down to content marketing.
The ROI is significant. Content marketing generates 3 times the number of leads as traditional marketing. Plus, it costs 62% less.
When it came to overall content marketing success rates, those who didn't feel they were successful said they would increase their content marketing budget in the next 12 months (45%) .
---
Need some help with your content marketing? If you have any questions at all, please don't hesitate to get in touch.