Table of Contents
What is content marketing? Well, it is both the creation and distribution of content that ensures a positive customer experience and ultimately, a positive return on investment. Often described as 'the sweet spot' in marketing, it is designed to facilitate a positive value exchange between the brand and consumer. With an overall goal to entertain, inform and inspire, content marketing is the best way to promote products and services and is a must for businesses wishing to compete effectively in their respective markets.
Prior to purchasing, consumers turn to the internet to conduct primary and secondary research. Because of this, marketers are challenged to continually curate and produce useful and compelling content that cuts through a noisy online world and engages with the customer. Combining the value-driven experience, marketers can also use content marketing to build customer relationships, regardless of where they are at within the sales funnel.
At a time when consumers are being bombarded with different messages 24/7, ensuring you remain top of mind amongst the 'noise' is a top priority for every marketer. This is why Customer Experience Management (CEM) is crucial to your success. You need to carefully focus on how you customise each customer's experience to their specific wants, needs, and priorities.
Today's customer is accustomed to receiving content in a myriad of ways, from video to audio to email, websites, SMS, social media, and more. While creating quality content is a good step towards success, things shouldn't stop there.
Ensuring that you have the right systems in place to adequately manage your content will help you in achieving maximum ROI. This system should accommodate the entire life cycle – production, publishing through to the distribution of your digital and rich media assets.
Reaching customers faster and with more and more exciting content will help to win their business.. We need to leverage automation to optimise our customer communications by customising them to each customer, promoting a deeper relationship with every touch.
To do that we need to closely manage our content, making it readily available for delivery through websites, email, social media, and other channels. Close coordination with each of your channels creates the kind of customer experience we need our customers to enjoy.
Inherently customer-focused brand marketers know that content marketing is a priority investment for the future. In an effort to cut through today's information-rich environment, a focus on producing high-quality content is essential.
Content Marketing = Positive customer experience.
To reach a sweet spot with your content marketing, it's about balancing two competing aims: positive value exchange for customers; and positive return on investment for the organisation.
Positive value exchange for the consumer includes entertainment, information, emotional/wellbeing and reputational offerings. This then leads to a positive return on investment for the brand or organisation, which is often a direct or indirect financial return, unless it is government or a on-profit.
How does Content & Content Marketing differ?
Content marketing is about enticing and captivating an audience to an experience that you have built and optimised to meet your specific marketing objectives.
It is not about buying an audience via another platform, it's about giving your audience value. By focusing on value, when your customer is ready to purchase or engage, the brand is top of mind.
Without a focus or being tailored to an audience, it can make the destination or 'experience' not worth travelling to. As a rule, content should entertain, educate or engage an audience. This means it must be planned and strategised for it to be effective.
Before creating or curating content, ask yourself three basic questions; Why, Who and What?
Why are we creating this? Are we looking to increase awareness, engagement or drive action?;
Who is the clearly defined target market (persona);
What type of content will work best? For example visual (eg imagery or video) or written (eg article, checklist, blog).
Content is everywhere.
Content takes on many different forms ranging from product content, sales content, customer-service content, event content, employee-generated content, marketing and campaign content. Even advertising is content.
The role of content.
Content should have a clear purpose, to entertain, inspire, educate or convince. These play different roles and can be used in various stages of the customer buying journey from awareness through to conversion. Funny, moving, trendy, illuminating and uplifting are all content sharing triggers.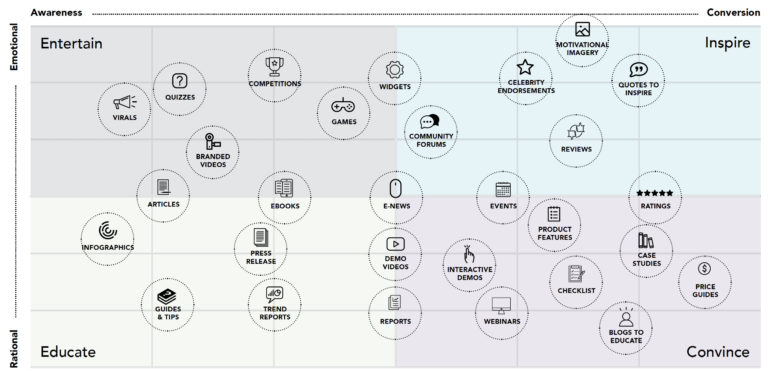 The qualities of great content.
Ensure your content shares these four essential qualities:

– Chapter-able;
– Participatory;
– Share-worthy;
– Measurable.
Your content can be spread across multiple posts or channels, for example using an image or a quote from a blog or video. Or content before, during and after an event.
Your content naturally invites participation and/or engagement
(e.g. comment, respond, like).
Your content naturally lends itself to be shared via social channels, messaging apps or email. E.g. page visitors, video views, time spent, number of likes, comments etc.
Content across the Customer Journey.
The customer is imperative to your strategic success. They should remain at the core of everything you and your organisation does.
Depending on where the customer sits on their journey, content creates a custom experience that ultimately leads them through an engagement funnel that turns them to advocates of your brand.
The idea is to serve up slightly different content aimed at which 'buying' stage your audience is sitting within. Instead of interruption, we are offering value, which alone is at the crux of what content marketing is designed to provide and offer.

---
Read Part 2 – Content Marketing 101: How to maximise your content marketing efforts
Need some help with your content marketing? If you have any questions at all, please don't hesitate to get in touch.