Coast agency is home to an incredibly talented group of young creatives, each with their own unique gifts and abilities. Our collaborative and closely knit culture is what enables the various hues of colourful characters to come together and bring Coast to life each and every day.
To represent this culture, and also the creative community that we are connected to and support, Coast teamed up with local artists to design and construct a colourful mural within our studio.
Made up of various hues of dusty pinks and blues, 'Happy Place' is a true representation of what makes Coast so unique. Drawing inspiration from our brand story, as well as the diverse bunch of creatives that call Coast agency home, the mural symbolises a festival of ideas, inspiration, happiness, creativity and life.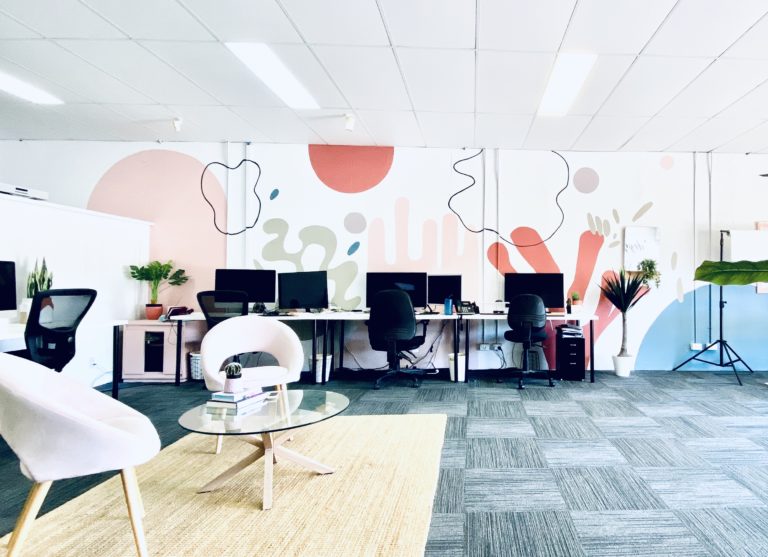 At first glance, there are many elements within the mural that are reminiscent of underwater life; think corals, flecks of light from schools of fish, and vast underwater landscapes. The way in which these elements come together is akin to the unique marine environment of the Solitary Islands Marine Park, located directly off Coffs Harbour, the home city of Coast Agency. This particular marine park is where multiple ocean currents converge, supporting a flurry of diverse marine life that co-exist and thrives in what is a very unique marine environment. There really is no place on earth like it.
Also inspired by energy felt in the day-to-day at Coast, there is also a strong sense of movement and playfulness in the way the many elements fit together; you can almost hear music, marvel at dancing and giggle at confetti exploding at a party or festival. The artwork really has a life of its own.
Painted over 4 sessions and calling on help from Coast Content Collaborator Jessi Simpson, and Coast Creative Director Jena Hackett the mural crew worked day and night to turn a blank white wall to a feast of colour and energy.
During construction, there were plenty of beers, beats; not to mention blood, sweat and tears (of joy), as every stroke of the brush was met with lots of laughs. 'Happy Place' was a truly a pleasure to design and make.
People often describe the positive energy that comes from every meme, every click of a mouse and every meeting that takes place in our fun and flexible workplace. It is a studio where even our interior matches the personality and individualism of all who call Coast home.
Walking into our agency, you cannot miss 'Happy Place' – a true representation of what it feels like to be part of the family that is Coast.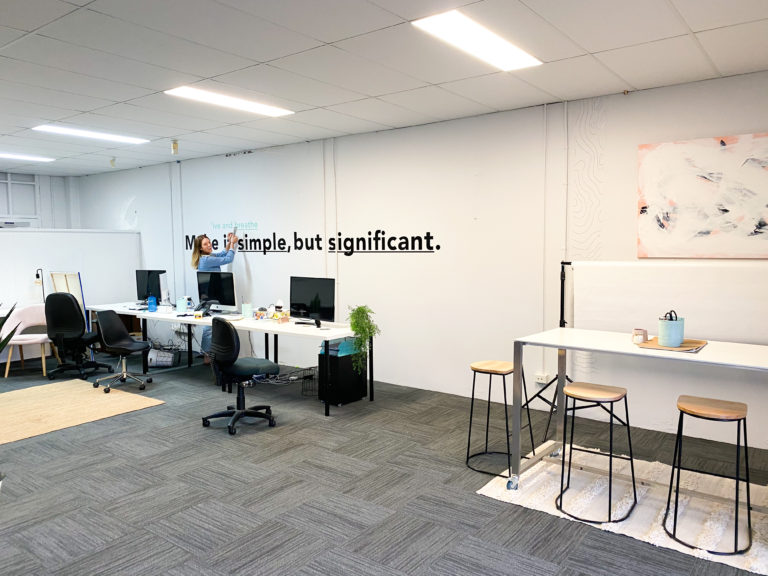 Next time you're in the neighbourhood, call in for a coffee and feast your eyes on this colourful addition to our studio.